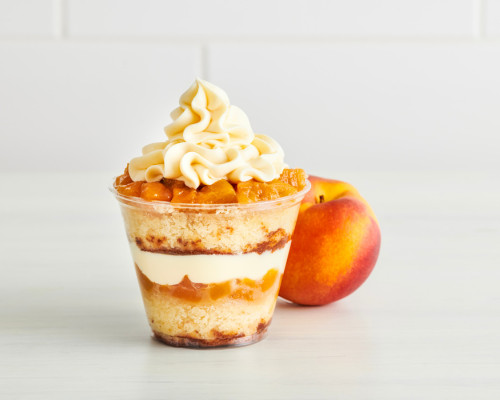 Peach Upside-Down Cake
Indulge in a slice of pure peachy bliss with Gretchen's Goodies' Peach Upside-Down Cake. This delightful creation showcases layers of moist and flavorful peach-infused cake, generously adorned with caramelized peaches, and topped off with a heavenly whipped cream.
Features
Layers of peach-infused cake for a burst of fruity goodness.

Caramelized peaches add a rich and sweet texture.

Velvety whipped cream crowns the cake with indulgence.

Baked fresh by our talented bakers.

Made with the finest ingredients for an unforgettable taste.
At Gretchen's Goodies, a renowned cake shop and the best bakery in town, we pour our passion for baking into each creation. Using only the finest ingredients, our skilled bakers have perfected the art of infusing our moist cake with the natural essence of ripe peaches. The result? A harmonious medley of flavors that will transport you to a summer orchard with every bite. The caramelized peaches enhance the sweetness while adding a delightful chew to the cake, creating layers of delectable textures. Visit us today!