CATERING SERVICES
Dessert Catering For Any Special Occasion or Event
Whatever event you're hosting in the Tampa, FL, area, having good Instagram-worthy desserts is an absolute must. Whether you want to serve up mess-free, convenient sweets for your wedding, graduation, or corporate event, the food can make or break your guests' experience — and Gretchen's Goodies caters to all of them!
Whether you are hosting a momentous celebration or you're looking to raise money for your favorite foundation or nonprofit, Gretchen's Goodies would love to provide the dessert catering you need to give your guests the best desserts possible. Learn more about our Florida cake shop's catering down below!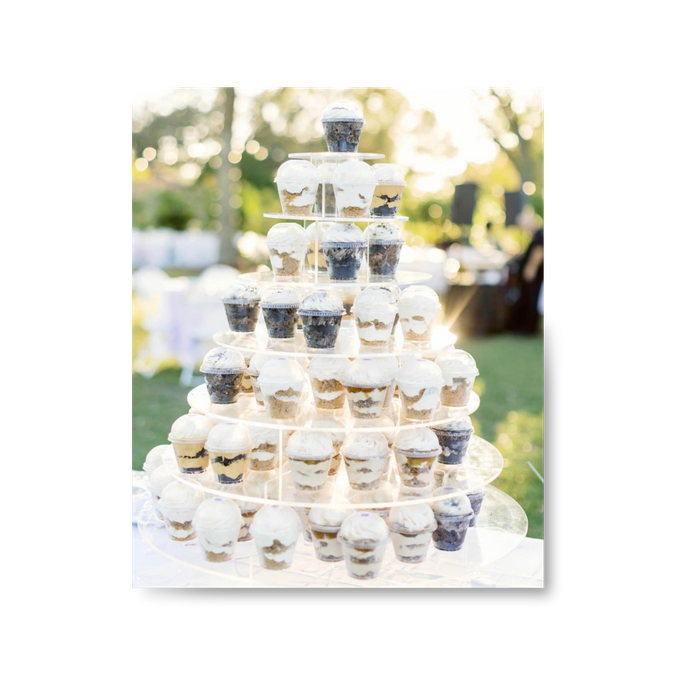 DELICIOUSLY DECADENT BAKESHOP DESSERT CATERING
Indulge your guests with the irresistible flavors and heavenly treats from our cake shop's catering services. At our Tampa Bay bakery, we offer two sizes of goodies for catering orders: the talls and the shorts.
Our tall size is a mouthwatering two-layer dessert of your choosing, weighing in at nine ounces each; this is the standard size available at our bakeshop's location within the Zoom Zoom in Riverview. However, if you're looking for something a little bit lighter for your guests, Gretchen's Goodies also offers the short size, one-layer dessert at seven ounces; this option in particular is only available through a special order from our executive chef.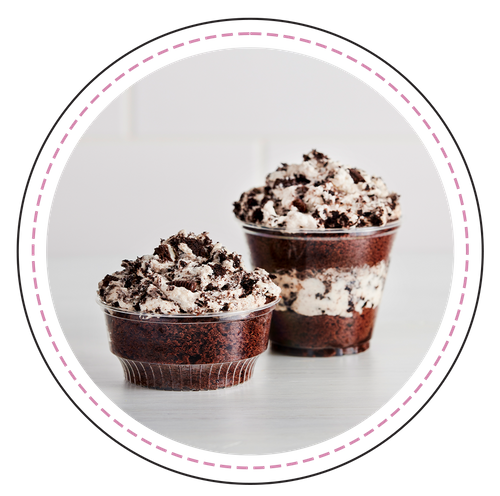 OUR CAKE SHOP ORDERING DETAILS
Gretchen's Goodies has no minimum order size for the standard "tall" size and pricing starts at $4.99 each for orders of 12 to 49 desserts; however for bulk orders of 50 or more, the price per dessert is reduced to $4.75 each. You have the freedom to choose from any of our 70+ flavors, ensuring a dessert selection that perfectly suits your event.
For our "shorts", the minimum order size requirement is 25. Priced at $3.99 each, these delectable treats require a three-week notice to ensure perfection in every bite. Shorts are only available in a limited number of flavors – see below for the flavors available.
Flavors Available as Shorts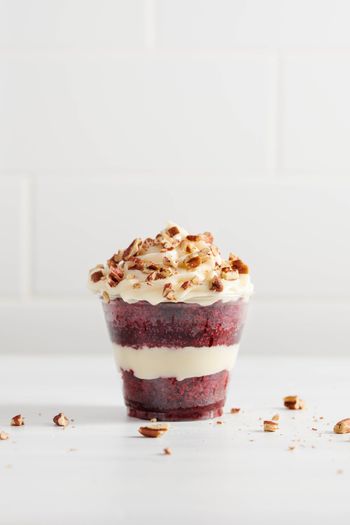 Red Velvet Cake (with or without pecans)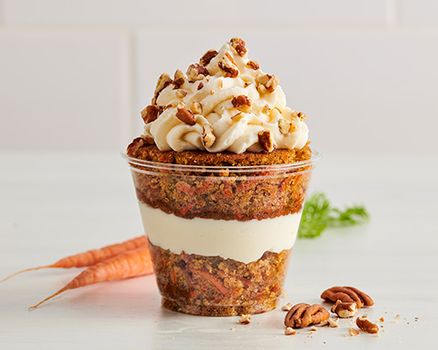 Carrot Cake (with or without pecans)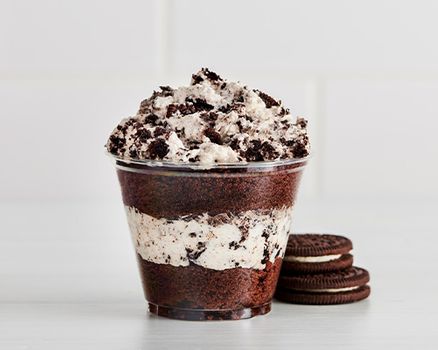 Chocolate Oreo Cake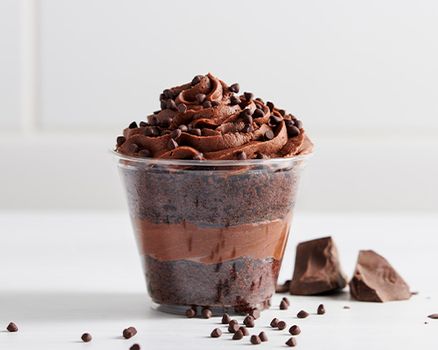 Double Chocolate Cake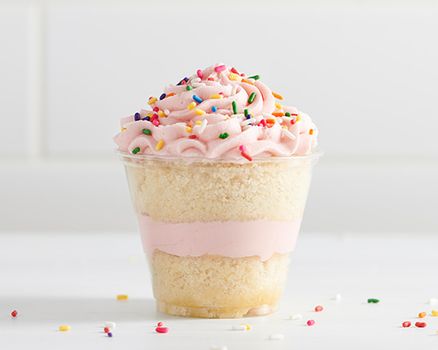 Vanilla Birthday Cake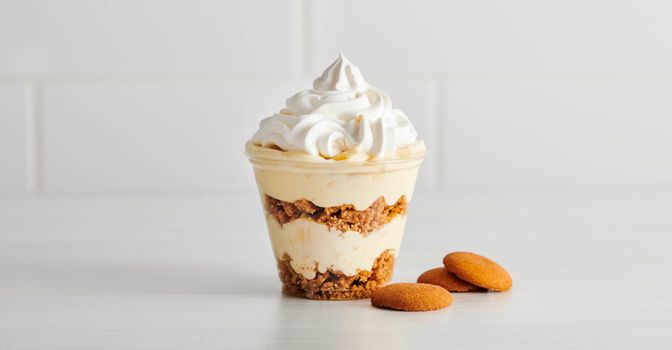 Banana Cream Pudding Pie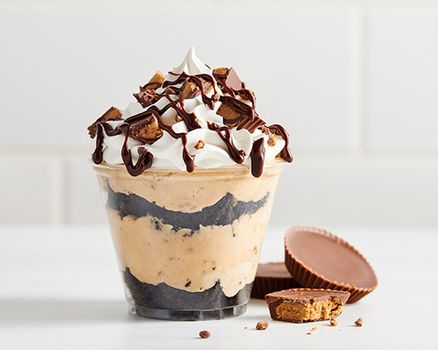 Reese's Peanut Butter Cheesecake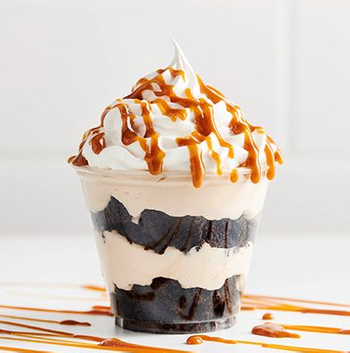 Salted Caramel cheesecake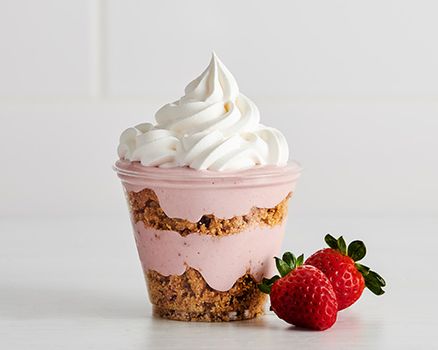 Strawberry Cheesecake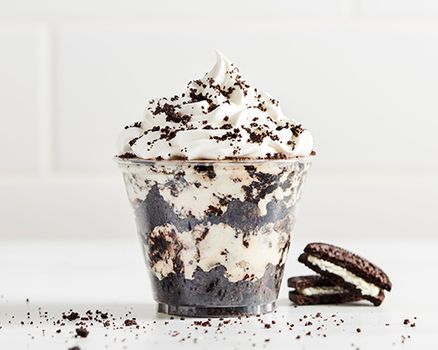 Oreo Mousse Pie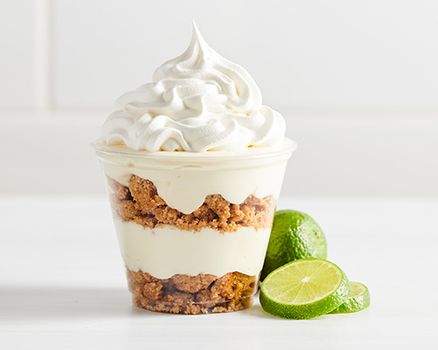 Key Lime Pie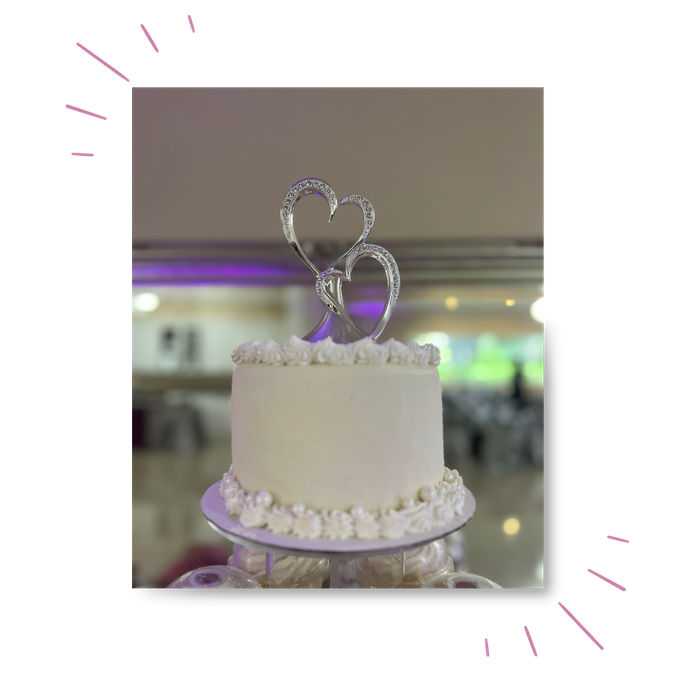 WHAT TO EXPECT WHILE ORDERING
To secure your dessert catering order, Gretchen's Goodies requires a 50% non-refundable deposit for any order larger than 50 cakes, pies, or cheesecakes. For orders of less than 200, delivery is available within a 30-mile radius for just $50.
Whether you're ordering 200 talls or shorts, we offer an enticing bonus to elevate your dessert experience. With an order of 200 or more treats, you can enjoy a complimentary six- to eight-inch cake. This cake can be customized and decorated according to your preferences, adding a delightful centerpiece to your dessert table. For smaller orders, this cake option is available for purchase at $50.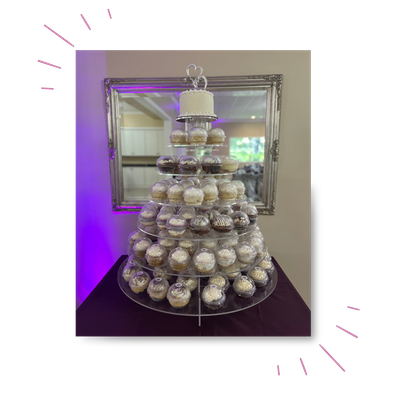 Enjoy Delivery & Rentable Cake Stands
Our Florida cake shop understands the importance of convenience when planning an event. Therefore, we offer free delivery within a 30-mile radius for orders of 200 or more desserts. If your event is outside this range or you have a smaller order, you can enjoy the convenience of delivery for just $50.
To showcase our delicious confections, we offer the option to use a cake stand. For orders of 200 or more, the use of a cake stand is complimentary. This elegant addition elevates the presentation and adds a touch of sophistication to your dessert display. For smaller orders, a cake stand is available to rent for $50.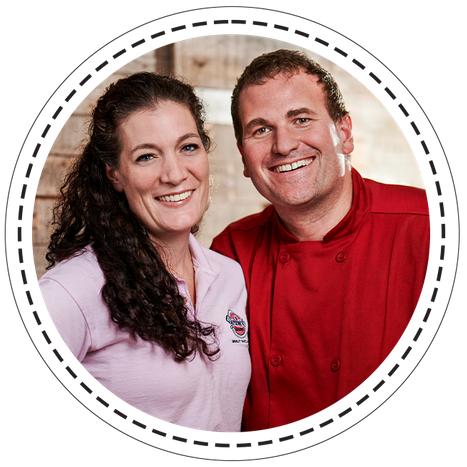 WHY CHOOSE OUR DESSERT CATERING?
Our individually-packaged baked goods are safe and easy to serve. Each is handmade from scratch, making them delicious treats that you will find nowhere else. You can also divide up your flavors for different palates. So, if you want something fruity, dark, or light you can go with all three! Each plan can be customized for you to fit your needs and your tastes.
Most of Gretchen's recipes are family-kept secrets that she is excited to share with the world! All of the goods displayed are made in-house. Gretchen and her husband have tested hundreds of recipes to find the perfect desserts to serve you.
HOW TO ORDER YOUR GRETCHEN'S GOODIES
Placing an order for our delectable desserts is a breeze. Simply reach out to us by emailing gretchen@gretchensgoodies.com. Our friendly team will be delighted to assist you with your catering needs. If you prefer a more personal touch, we invite you to visit our store and speak with our talented and experienced executive chef, Nashie. We will guide you through the ordering process, ensuring every detail is carefully attended to!