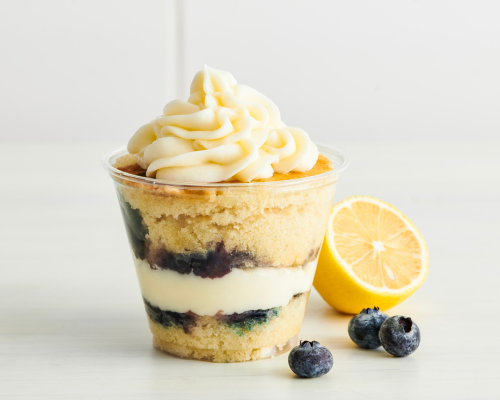 Lemon Blueberry Cake
Experience a delightful burst of tangy freshness with Gretchen's Goodies' Lemon Blueberry Cake. This heavenly creation features layers of moist lemon vanilla cake infused with juicy blueberries, and generously frosted with our smooth and zesty lemon buttercream.
Features
Layers of lemon vanilla cake with a refreshing twist of blueberries.

Tangy and creamy lemon buttercream frosting adds the perfect balance of flavors.

Expertly crafted by our talented bakers.

Made with fresh, high-quality ingredients for an unforgettable taste.

The perfect choice for citrus lovers and those who crave a hint of sweetness.
Try the harmonious combination of zesty lemon and succulent blueberries with Gretchen's Goodies' Lemon Blueberry Cake, meticulously crafted at the best bakery in town. Our cake shop is renowned for creating exquisite treats that tantalize your taste buds. Each layer of our lemon vanilla cake is infused with the refreshing essence of lemons, while the juicy bursts of blueberries add a delightful sweetness and burst of flavor. Visit our cake shop in Riverside today!