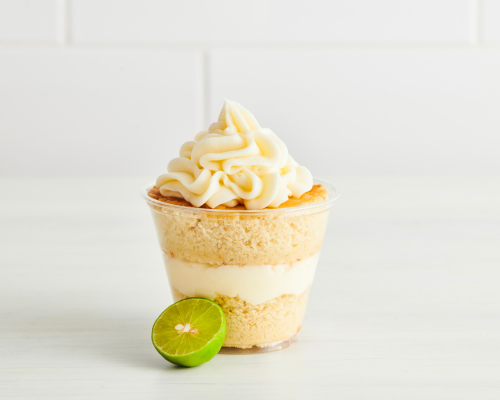 Key Lime Cake
Embark on a tangy and tropical taste adventure with Gretchen's Goodies' Key Lime Cake. This heavenly creation features layers of moist and zesty key lime vanilla cake, expertly frosted with our luscious key lime buttercream.
Features
Layers of key lime-infused vanilla cake for an irresistible burst of citrus flavor.

Mouthwatering key lime buttercream frosting adds a smooth and tangy touch.

Expertly crafted by our talented bakers.

Made with fresh, high-quality ingredients for an unforgettable taste.

The perfect choice for citrus lovers and those seeking a refreshing, tropical treat.
Savor the bright and refreshing essence of key lime with Gretchen's Goodies' Key Lime Cake. Our cake shop in Riverside, FL, is renowned for crafting exceptional confections that ignite the taste buds. Each layer of our key lime vanilla cake is infused with the vibrant and tangy flavor of freshly squeezed key limes, delivering a fulfilling citrus experience. The key lime buttercream frosting is a dreamy and creamy delight, with just the right balance of sweetness and tanginess to enhance the overall flavor profile. Every bite of this moist and zesty cake will transport you to a tropical paradise, awakening your senses with its invigorating taste. Visit us today!