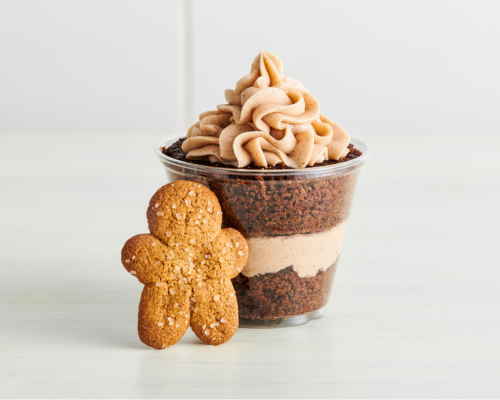 Gingerbread Cake
Craving the nostalgic flavors of the holiday season? Visit Gretchen's Goodies in Riverside, FL, today to try our Gingerbread Cake! This delectable creation features layers of moist and aromatic gingerbread spiced cake, generously frosted with our heavenly cinnamon cream cheese frosting.
Features
Layers of gingerbread spiced cake for a warm and comforting taste experience.

Creamy cinnamon cream cheese frosting adds a delightful touch of sweetness and spice.

Expertly crafted by our talented bakers.

Made with fresh, high-quality ingredients for an unforgettable taste.

The perfect choice for gingerbread enthusiasts and those seeking the best cakes.
Transport yourself to a cozy winter wonderland with Gretchen's Goodies' Gingerbread Cake, baked with love at the best bakery in town. Each layer of our gingerbread spiced cake is infused with aromatic spices, such as ginger, cinnamon, and cloves, delivering a delightful medley of flavors that will warm your heart. The velvety cinnamon cream cheese frosting adds a creamy and slightly tangy complement to the cake, creating a perfect balance of sweetness and spice. Find the best cakes of all flavors at Gretchen's Goodies!