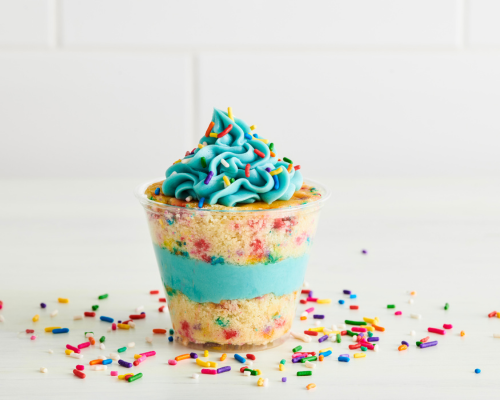 Confetti Cake
Experience a burst of joyful celebration with Gretchen's Goodies' Confetti Cake. This delightful creation features layers of moist and colorful confetti cake, generously frosted with our smooth and flavorful blue vanilla buttercream. Topped with a shower of vibrant sprinkles, this cake is a feast for the eyes and the taste buds.
Features
Layers of confetti cake for a festive and fun experience.

Creamy blue vanilla buttercream adds a delectable touch of sweetness.

Expertly crafted by our talented bakers.

Made with fresh, high-quality ingredients for an unforgettable taste.

The perfect choice for birthdays, parties, or any occasion that calls for a celebration.
Get ready to party with Gretchen's Goodies' Confetti Cake, baked with love at the best bakery in town. Our cake shop is well-known for creating unforgettable treats that bring smiles to faces of all ages. Each slice of our confetti cake is a joyful surprise, with vibrant colors peppered throughout the soft and tender cake. The blue vanilla buttercream frosting adds a sweet and smooth layer of heaven that complements the confetti cake perfectly. With every bite, the bursts of confetti colors and delightful flavors will lift your spirits and brighten your day. Celebrate with Gretchen's Goodies; order now!