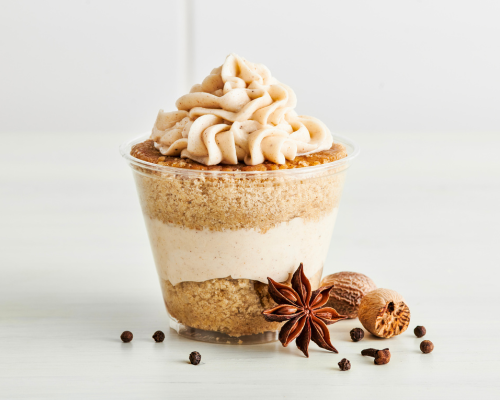 Chai Latte Cake
Introducing our Chai Latte Cake, a tantalizing creation that will transport you to a world of aromatic bliss. This exquisite cake features layers of chai-infused cake and velvety chai latte buttercream, meticulously crafted to perfection.
Features
Chai-infused cake layers, delicately spiced with a medley of aromatic chai flavors.

Luxurious chai latte buttercream that envelopes each layer with a smooth and creamy texture.

Expertly crafted by our talented bakers.

Made with fresh, high-quality ingredients for an unforgettable taste.
Indulge in the harmonious fusion of flavors with our Chai Latte Cake at Gretchen's Goodies, the best bakery in Riverside, FL. Each moist and tender slice is bursting with the rich and warm essence of chai spices. The chai-infused cake layers are artfully balanced, delivering a symphony of cardamom, cinnamon, ginger, and other fragrant spices that dance upon your palate. As you savor each bite, the velvety chai latte buttercream envelops your taste buds, providing a lusciously creamy and indulgent experience. Our Chai Latte Cake is a true delight for chai lovers and cake enthusiasts alike. Visit us today to indulge in the best cakes available!